Toyota is the undisputed leader for hybrid technology in the Australian market, but it has yet to offer any electrification on its best-selling HiLux ute. That's set to change.
Sean Hanley, Toyota Australia's vice president of sales, marketing and franchise operations, envisions the HiLux range will continue to grow this year.
"Of course, we're not sitting still with our HiLux range," said Mr Hanley. "Last year we launched [updated] HiLux Rogue, and it has been very warmly received. In the third quarter of this year, we will launch the HiLux GR Sport."
"Also, we will have more action on the HiLux in the second half of the year."
"Our aim has always been to address market opportunities and customer needs with HiLux. At some point, that will include some form of electrification, although I don't intend to go into detail about that today," he added.
When asked a follow-up question about the statement, Mr Hanley said:
"We obviously have to look at commercial vehicles between now and 2030. So, what kind of electrification we use for that, we're not in a position to say today. But it was definitely something we knew we had to do."
Toyota has not confirmed whether the HiLux will use a petrol-electric hybrid powertrain like that used in most of its line of cars and crossovers, or a diesel-electric hybrid, mild hybrid or plug-in hybrid.
"Hybrid, plug-in hybrid – there are different types of variants. We're looking at H2 (hydrogen) conversion, we're looking at BEVs, we're looking at everything. This is what we say – Toyota is not going to put all its eggs in one basket," said Mr Hanley.
"The critical thing for us in Australia is fit for purpose. And I know I've said this ad is nauseating. Some people get it, and most of the silent majority actually do. But of course, everyone has a different point of view, and I respect everyone's different point of view, because they are not all wrong, nor are they all right.
"We have never said for one moment that we will not do electrification, that we will not do BEVs. We're just saying there's more than one option then just go with the BEV. To achieve carbon neutrality and be able to take customers on that journey, you need to offer options. It's that simple."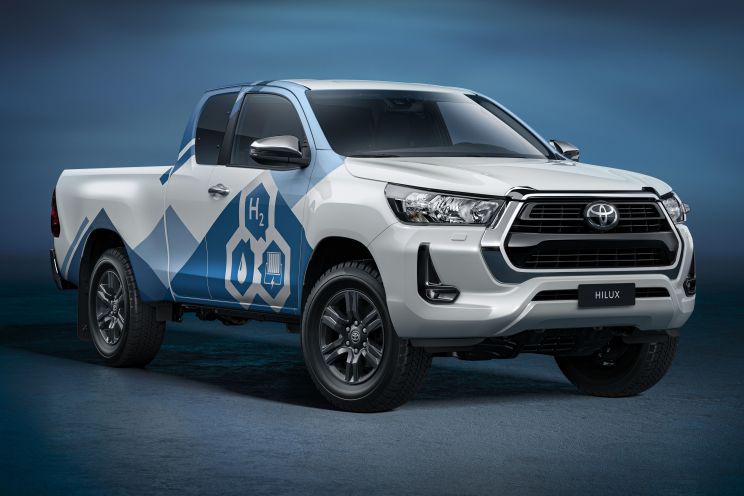 The company previously confirmed it intends to have hybrid versions of the HiLux, LandCruiser Prado, LandCruiser 300 Series and HiAce by 2030.
Toyota is cementing its commitment to offer three fully electric vehicles in Australia by 2026, in addition to the hydrogen fuel cell Mirai available for fleet bookings.
It previously revealed the electric HiLux concept in Thailand, and confirmed it will produce a prototype hydrogen fuel cell version of the ute in the UK.
MORE: It's all Toyota HiLux