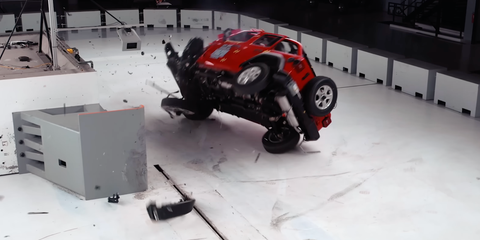 IIHS / YouTube
If you're shopping for a new or used car, it's never a bad idea to see how your prospective vehicle will perform in the event of an unwanted collision. Crash test videos are fun to watch whether you're in the market for a car or not. The folks at the Insurance Institute for Highway Safety cut down their five most-watched crash tests of the past year, and they're incredible. Check them out in the video here and the list below.
More on Crash Testing
Advertisement – Continue Reading Below
The Jeep Wrangler is an off-road monster, but its high center of gravity doesn't make it the best when it comes to the small front overlap crash test. As you can see in the video above, or read from the entire IIHS report here, Jeep's Wrangler didn't exactly pass the test with flying colors. The IIHS gave the '21 Wrangler a Marginal rating for its front overlap crash test.
Like Jeep's Wrangler, the Ford Bronco's high center of gravity makes it excellent at going over obstacles but needs some points in certain crash scenarios. Although, as you can see in the video, the Bronco did a better job on the front overlap test than its cross-town rival. The IIHS gave the Bronco a good rating on the small front overlap test—better than the Jeep.
Subaru is introducing the second-generation BRZ with the 2022 model year, so it's only natural that sports coupe fans flock to watch its crash test video. Between curiosity and legitimate market research, it only makes sense to see how the redesigned coupe performs in a crash.
Admittedly, this one is a head scratcher. The Chevrolet Spark is going out of production, and the 2013 model is no longer relevant since it was launched. Still, one of the many driving factors driving people to watch these tests may be skyrocketing car prices, pushing buyers to more affordable options that were previously off their radar. Or, as one commenter pointed out, the video may have been rejected for viewers by YouTube's algorithm. Regardless, Spark received an Acceptable rating in 2013.
The latest addition to Tesla's lineup was the top-rated IIHS crash test last year, according to the safety organization. The battery-electric compact crossover received a good crash rating from the IIHS and has garnered more than 276,000 views since the test hit YouTube.
Advertisement – Continue Reading Below