The Peugeot 2008 is getting a facelift that will bring the brand's new logo and an upgraded powertrain.
Our spy photographers captured several examples of the updated small SUV, including an early prototype that didn't feature any changes up front.
The front end is expected to receive an update that takes inspiration from the Peugeot 308, with changes expected for the front bumper, grille and headlights.
At the rear, an update to the design of the rear taillights can be seen through the camouflage.
The updated 2008 will receive the brand's new mild hybrid powertrain, featuring a 1.2-litre PureTech turbocharged three-cylinder Miller cycle petrol engine that delivers 101kW of power and 230Nm of torque.
It is paired with an electric motor with a peak power of 21kW and a torque of 55Nm, which is recharged by the combustion engine during deceleration.
The electric motor will be able to provide an additional 9kW of power to the engine under full acceleration.
The motor, inverter and ECU are all housed in an electric six-speed dual clutch gearbox. The 48V lithium-ion battery is mounted under the front left seat.
Peugeot says there is fully electric driving capacity, albeit only for "starting, moving and driving at low speeds in congested traffic", which Peugeot says still accounts for more than 50 percent of city driving.
In everyday driving, combustion and electric motors can go hand in hand. During strong acceleration, for example, the electric motor can provide additional torque to the gasoline engine at low revs.
This system also allows the car to coast with the petrol engine turned off.
The e-2008 could also receive a new 51kWh battery, related to the updated and more efficient e-208 and a 115kW/260Nm electric motor, up 15kW on the outgoing powertrain.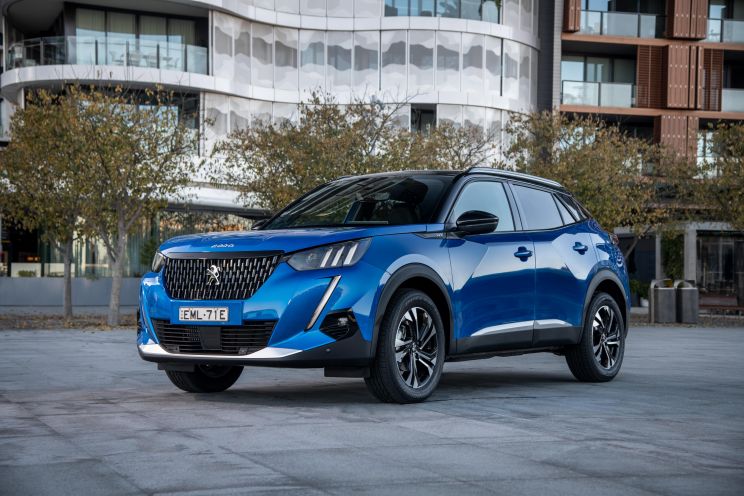 There are only subtle design changes between the current combustion and electric-powered models.
The E-2008 is expected to see its Australian debut following government approval for sale this year, with a Peugeot spokesman confirming "final evaluation is underway" for the model.
The E-Partner will be the first local EV, with Peugeot Australia managing director Kate Gillis hinting for Car Expert late last year the e-208 and e-2008 will likely be the next two taxis to be demoted after the van.
MORE: Everything Peugeot 2008