Mercedes-Benz has announced it will launch a high-power charging network across North America, Europe, China and other markets, and it will be open to vehicles from other brands.
The charging network will be Mercedes-Benz branded but developed in collaboration with solar and battery storage company MN8 Energy and charging network company ChargePoint.
The rollout will begin in North America this year, with Europe, China and an unspecified "other key markets" to follow.
The North American network will consist of more than 400 hubs with more than 2500 high-power chargers, with work scheduled for completion by 2027.
Each hub will, depending on the location, offer between four and 12 chargers with a charging power of up to 350kW. Mercedes-Benz says the hub will "eventually [have] by 30" charger.
By the end of the decade, Mercedes-Benz says its charging network will expand worldwide with more than 10,000 high-power chargers.
Although they will be open to all brands, Mercedes-Benz says its vehicle owners will enjoy additional benefits such as being able to reserve a charging point – something Audi offers with its charging hubs in Europe.
Chargers will be "conveniently spaced at regular intervals", close to highways, major intersections and metropolitan areas, and with nearby food outlets and restrooms.
Mercedes-Benz promises a "premium, sustainable and reliable" charging experience, with hubs featuring surveillance cameras and "other measures" to provide a safe and secure charging environment. Selected points will also be shielded for protection from the elements.
Mercedes-Benz will "preferably ensure" that the hub is supplied with energy through a green electricity supply contract or through a renewable energy certificate from a certified supplier.
It will also feature a roof equipped with a photovoltaic system to provide power for lighting and surveillance cameras.
"At Mercedes-Benz, we are fully committed to making the charging of battery electric vehicles easier and more accessible," said Markus Schäfer, member of the Board of Management of Mercedes-Benz Group AG and chief technology officer responsible for development and procurement.
"By choosing MN8 Energy and ChargePoint as our partners in North America – two of the leaders in their respective fields – we will be able to continue to drive the transformation towards an electric future, which is one of the main pillars of our holistic, sustainable corporate strategy. "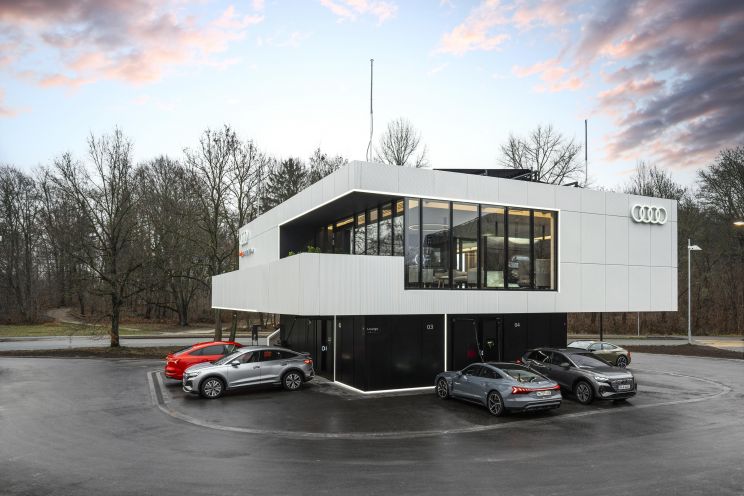 Mercedes-Benz isn't the first company to have a branded charging network.
Tesla's Supercharger range is the most extensive and well-known, but Audi has also launched its first four ring-branded charging hubs in Europe.
Although its chargers don't carry the Volkswagen logo, the German company established the Electrify America charging network in the US, while Ionity in Europe and Chargefox in Australia have partnered with various car manufacturers to give their vehicle owners access to public charging.