Scottish birth Jim Rowan takes over as CEO and president of Volvo Cars in March 2022, to oversee its transition to a fully electric and largely software-driven automaker by 2030.
Previously, his most high-profile role was as CEO of cult consumer electronics giant Dyson, between 2017-2020 – which happened to be the period when it was developing its now-cancelled EV project.
Running a trendy vacuum maker isn't your typical route to the top of a car company, with management usually dominated by people who have gained decades of industry experience.
But as 'car companies' turn into 'mobility companies' and focus more on batteries, chips, autonomous driving, direct-to-consumer retail and software services, traditional skill sets may no longer be sufficient. The parents of Volvo Geely clearly think so.
As part of getting around the car business and Volvo in particular, Mr Rowan spent time in what he calls the "extremes" of the world, with Australia one of these – a market where Volvo has just set an all-time annual sales record. and pledged to sell only EVs from 2026.
MORE: Volvo sold more EVs than ICE cars in Australia last month
We wonder what made Mr. Rowan so interested in joining the iconic Swedish car brand, what his unusual path to leadership led to the role, and what decisions he considers most important.
"Obviously I don't just come from that industry. I think one of the most important things is, especially when you're taking on a new role and you're taking on a new industry, really trying to understand what the industry is about," he said to get the ball rolling.
"We have about 42,000 people in the company. A very high majority of them really understand automotive, so I think it's time for us to start bringing in some other things outside of automotive as the industry goes through this change.
"The reason I joined Volvo is quite simple. Three reasons actually. It's a great brand, I grew up with Volvo, I think it has real authenticity, it's a brand that stands for something.
"I think it has a genuine soul, and we saw how it manifested itself over the years: the invention of the three-point seat belt, but then the courage to actually give it as an open patent for me to talk to the kind of companies I like to work for.
"So that was a big factor for me in terms of joining the company: the actual brand itself and what it stands for.
"And then you get this really interesting – I'm an engineer – [experience] as you go through a massive shift in the industry, and we have a double-headed shift going on right now in automotive.
"On the one hand you have the technical transition, which is from petrol to electric propulsion and from human driven to autonomously driven vehicles – all the software, electronics, lidar, radar, cameras, sensors, code, computer technology, everything is poured into it at the same time. And as an engineer, that's just an exciting space to be in."
Another side discussed by Mr. Rowan is the industry's shift towards sales channels controlled by automakers interested in engaging directly with buyers more, and relying less on franchised dealers. Volvo is experimenting with direct-to-buyer models in the UK and Sweden, but has no current plans to follow its Polestar brand (of which it owns 48 per cent) down this route in Australia – yet.
"At the same time, you have this other shift, which is direct to customer and building a relevant e-commerce engine that can connect directly with the end customer," Mr Rowan said.
"Not being from the industry, it seems actually kind of weird to me that you can sell a 40, 50, 60, 70 thousand dollar product to a customer and never talk directly to that customer. People walk into [franchise] the dealership, buying the car through the dealership, and then all the service and interactions and connections are through the dealership.
"And now I think the demographics are changing because of the way people shop online, and the way people expect to be in direct contact with the OEM that makes the product. A good example, of course, is Apple," he added, although Tesla would be another.
"So the transition is twofold, the technical and commercial weight, and of course everything [being] supported by genuine steps towards sustainability," added Mr Rowan, which he sees as a key factor behind his desire to enter the car industry.
"We were I think one of the first, let's call it 'traditional', car companies that said 'we're going to be all electric'. We will be a fully electric car company by 2030. We will be halfway there by 2025. No ifs, no buts, no maybes, that's it. We went out for an IPO on that message. We're taking people's money out of the market to say 'this is where we're taking our company'.
"It's starting to look more obvious now, but when the team that made that decision – the one ahead of me, so I can't take credit for that – the team basically said, you know, 'we're all here. This is the direction of travel and we think we should go there'.
When asked to expand on what his particular skill set could bring to the company in such a changing period, Mr Rowan again pointed to the fact that Volvo is not short of car users, but may be short of people with a broader technology and customer experience background. .
"We have 42,000 people in our company, I would say 41,500 people really understand automotive. I think we've solved it is my honest answer to that, and not just young people, but a lot of senior people who have been in our company for a long time," he told us.
"What we haven't fully covered is, what will this be like in five years? What will thinking look like in five years?
"Because I come from the technology sector, I was amazed when I entered the auto industry how much IP and technology had been outsourced from the big car companies. They outsource to the so-called tier one guys," he said, referring to big suppliers like Bosch, ZF and Nvidia.
"So you take the traditional model of designing a car: you go to the big stage, you say 'hey I need an electronic control unit for lights and brakes and this and that', and they say 'okay we'll sell that to you, this is the cost, we choose the silicon, we choose the software and you plug and play'.
"Tesla of course came in and said, 'no, we want to do core computing technology'. And that's the first time something really different has been done in a long time.
"So, I'll sum it up by saying, big, deep changes in the industry that the industry is moving towards, that I think I can help bring [about] from the technology sector, because I understand software and understand silicon, and in the world of next-generation mobility, if you don't understand software and silicon, you're already in trouble.
"The problem is that when you go through this transition, it seems like the transition is going to be linear because it's 5 percent [gains] a year and then boom, it hits an inflection point and the gradient increases, and it goes fast.
"The big issue is that if you wait for a turning point before you make an investment, it will be too late. And there are a lot of companies saying 'I'll wait until electrification is fully mainstream and I'll invest'. You know what, man? You just lost another market. It doesn't work like that.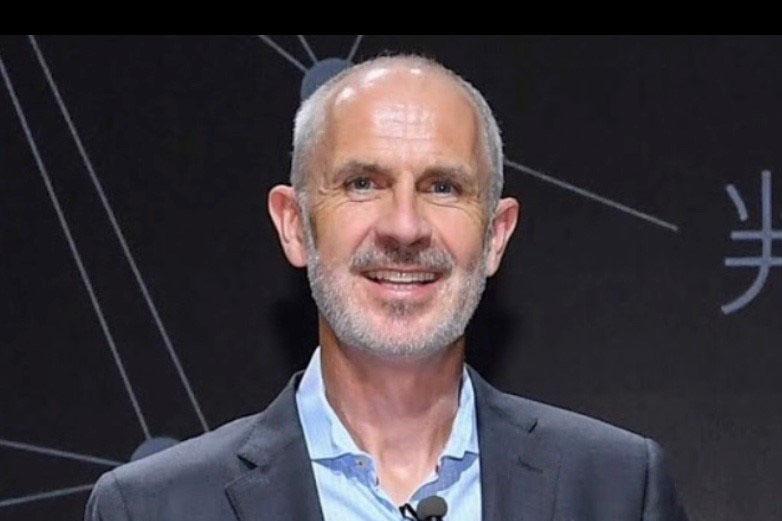 "You see it in smartphones. I've been in the smartphone industry for a long time [Blackberry]."
"… It will not be a profound change in the automotive industry. But this oligopoly theory as it goes into the next generation of technology will play out. And by 2025, the 26 winners will be winners, and a lot of other people who haven't invested in the technology won't own IP and they'll go back to where they were, which is buying IP from some other tier one to try and stay relevant.
"And that's why we're investing in core computers. That's why we invest in batteries [Volvo has a JV battery plant in Sweden with Northvolt]. That's why we invested in our own e-motor. That's why we invest in our own inverters. That's why we do our own battery management system.
"But this is also because we are very selective about what we buy versus what we build.
"Take the infotainment. The Qualcomm Snapdragon processor is a pretty good processor, used in most mobile phones. Qualcomm knows how to make silicon, we don't need to get involved in that. We need to understand silicon, but we don't need to have a fab and make it.
I'm also very happy that, out of 7 billion people on the planet, 5 billion have got either an iPhone or an Android, so I think they've got the infotainment covered. I don't care if they say 'Hey Siri' or 'Hey Google', I don't need them to say 'Hey Volvo', what does it really add?
MORE: Polestar 3, Volvo EX90 to use Google Maps HD
"… Android and Apple will continue to make massive investments in the platform because they want it to stay relevant. So that's another 'buy' for us. And then we went all the way to silicon, and we bought it from Nvidia. We do not make our own SoC [system on a chip]I don't think we need to do that."
Mr. Rowan detailed the growing computing power of the chip and how Volvo plans to stay in its lane as it improves, with the 2025 iteration expected to be capable of a staggering 1000-1200 TOPs (trillion operations per second, or impression operations per second).
"That's the computing power anyone needs. Our job now is to take that computational power and do something meaningful with it," he said. "And that's done through the software stack," he added, referring to the next iteration of Volvo's ADAS safety system.
"Sorry, I know that's a long answer to a short question… I should have said software and silicon, done!", added Mr Rowan.
This year will see Volvo unveil the new EX90 large electric SUV – the safest and most computationally advanced Volvo ever – and the all-new EX30 small electric SUV.
MORE: Geely releases 2022 sales figures, Volvo and Polestar EV