Hyundai has been snapped putting seven seats, electric Ioniq 7 SUV through its paces.
The 7 will be Hyundai's version of the Kia EV9, riding the brand's latest e-GMP electric car platform under the skin.
Hyundai Australia has already confirmed it will go on sale in Australia in 2024, as part of plans to increase sales of the Ioniq-branded electric vehicle from 3000 in 2023 to 6000 units in 2024.
Although it is still heavily disguised, the Ioniq 7 is expected to remain faithful to the 2021 Seven concept.
Expect to see a two-tiered headlight arrangement, complete with retro-futuristic parametric pixel detailing that links the Ioniq 5 and Ioniq 6 already on sale.
With a 3200mm wheelbase, Hyundai says the interior of the Seven concept offers "a completely new dimension of space" with a high roof and flat floor.
Concept Seven has "more than 480km" in the range, albeit with undisclosed drivetrain specifications. While Hyundai hasn't confirmed further details, the new Kia EV9 should offer some clues.
Standard: 160kW/350Nm single motor RWD, 0-100km/h in 8.2 seconds
Long Range: 150kW/350Nm single motor RWD, 0-100km/h in 9.4 seconds
Dual motor: 283kW/600Nm dual-motor AWD, 0-100km/h in 6.0 seconds
The Boost feature is available at the Kia Connect store for the dual-motor version, increasing torque to 700Nm and cutting the 0-100km/h time to 5.3 seconds. Kia claims the EV9 will offer a towing capacity of up to 2500kg.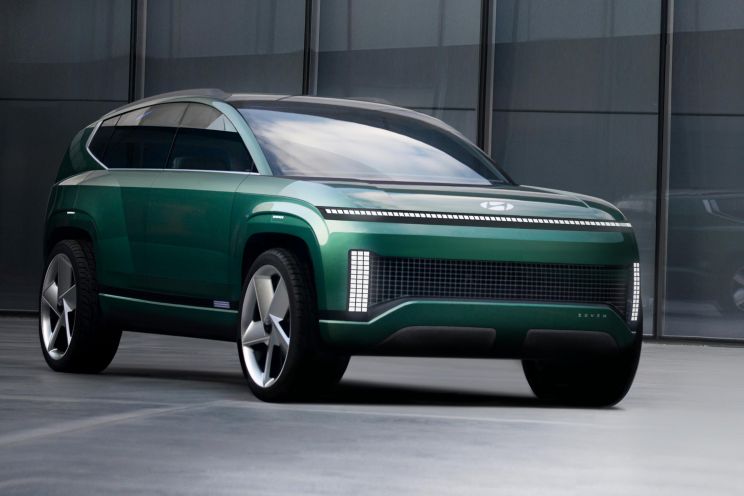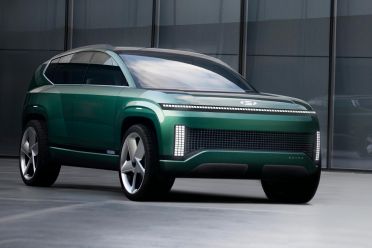 All excluding rear-drive Standard will use a 99.8kWh battery, with the base model using a smaller 76.1kWh battery.
Kia has only published range figures for the rear-wheel drive Long Range model with 19-inch wheels, which works for 541km on the stricter WLTP cycle.
The EV9 offers the same 800V ultra-fast charging capability as other vehicles on the E-GMP platform, and Kia says 239km of range can be added in 15 minutes.
It can also be used to supply equipment through the Vehicle-to-Load (V2L) function, which outputs up to 3.68kW of power.
Hyundai Australia says its supply of electric vehicles is open, meaning it will no longer have to sell its E-GMP-based models on a 'drop' basis as it has done with the Ioniq 5 in the past.
No more geofencing, meaning anyone in Australia can now buy an Ioniq 5 or Ioniq 6 using the online sales portal, and receive delivery from your chosen 'delivery partner'.
Speaking of which, Hyundai wants to have up to 90 delivery partners at 90-100 dealerships across Australia by the end of next year. Currently, the number is 24 partners.
Stay tuned Car Expert for all the latest.
MORE: Hyundai Seven concept revealed