The Genesis G80the Korean luxury brand's flagship sedan in Australia, is getting fresher.
Photo shared by Korean outlet Autospy depicts a heavily camouflaged G80, however we can see some changes.
The 'G-Matrix' grille pattern features larger diamonds, while the headlights have more pronounced cube-like elements like those on the larger G90 sedan which is not sold here.
There may also be traditional mid-cycle aesthetic updates such as restyled bumpers and tweaked tail lights.
The prototype is a combustion-powered G80 based on its shield-shaped exhaust outlet, apparently unchanged from the current car, as well as its open grille.
It's not clear what other changes might come to the G80, without pictures taken of the interior. Whether it will switch to a wrap-around assembly consisting of a digital instrument cluster and an infotainment touchscreen is unclear.
It's likely that when the updated G80 arrives here, it will feature Genesis Connected Services (GCS), introduced locally on the 2023 GV60.
This allows owners to access safety, security and convenience features either in the car or on a smartphone.
Features of this connectivity suite include in-car voice control, SOS emergency calls and the ability to view your vehicle's location remotely.
The current G80 arrives here in 2020, so it's nearing the midpoint of its life cycle. With all new product launches from 2025 onwards being electric vehicles, this will be the last generation of the G80 to offer combustion power.
There is an electric version of the current model, called the Electrified G80. The two-pronged petrol/electric strategy with the G80 range will soon be used by BMW with its electric 5 Series and i5 models, which will be revealed this year.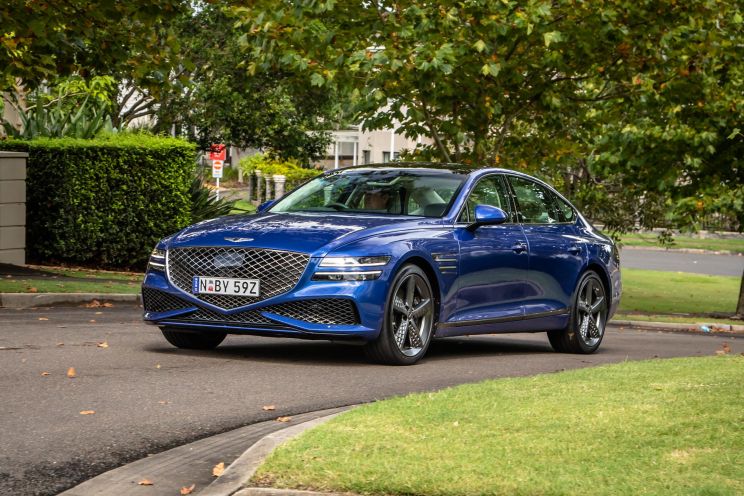 Genesis currently uses three electric vehicles, two of which use a combustion platform and one of which uses a dedicated E-GMP architecture.
Despite declining sedan sales globally and in Australia, Genesis has committed to continuing to offer sedans.
Body style is especially important in its home market of Korea, where the G80 was one of the 10 best-selling vehicles last year and Hyundai's Grandeur was a regular fixture in the top 5.
MORE: Everything Genesis G80