BYD's fledgling luxury brand looks to be gunning for the Porsche Taycan with a new flagship sedan.
The new Yangwang-branded large sedan has been exposed by a filing with the European Union Intellectual Property Office.
The sleek sedan has previously been spied in the metal at a BYD service centre in China wearing Yangwang branding.
According to Chinese media, the Porsche Taycan rival is rumoured to boast power outputs of 880kW from a quad-motor electric powertrain.
Previous spy images reveal an interior dominated by screens, with the central infotainment screen a large portrait-oriented unit.
The spy photos also suggest a comprehensive active safety suite, with a protruding LiDAR module visible on its roof. This can also be seen in the patent images.
The as-yet unnamed sedan is also rumoured to use one of BYD's new suspension systems revealed earlier this year.
DiSuS-A is what BYD will call its air suspension set-up, while DiSuS-P is a hydraulic system which can control the oil intake of the damper, damping adjustment valve, and stiffness adjustment valve, while offering travel of up to 200mm.
This system can also lift all four wheels simultaneously, or independently for a single wheel. BYD claims it can provide an instantaneous 200 per cent increase in stiffness during high-speed cornering or other "intense" driving conditions, while also reducing impact load in a collision.
The EU patent offers a more detailed glimpse of the luxury sedan's body than the spy pictures.
Immediately obvious is the fact the new Yangwang sedan shares some design cues with other BYD products, especially the BYD Seal.
The front fascia features prominent daytime running light (DRL) signatures that undercut the main headlight clusters.
Below that we see an aggressive front lip that directs air into a lower grille segment. However, as this is rumoured to be an EV, it's likely the grille will incorporate an active shutter system to cool the battery and motors on demand.
Overall the body features sharp crease lines especially on the bonnet and along the doors. This is accentuated by a chrome strake located just forward of the front doors.
Chrome window trims sit below a blacked-out roof, suggesting the Yangwang sedan will feature a large panoramic sunroof.
Sporty side skirts lead into an aggressive diffuser.
The rear end also contains taillights that stretch the width of the car, reminiscent of the late Kia Stinger.
The design in the patent has the same five-spoke wheels as the test car spied earlier this year.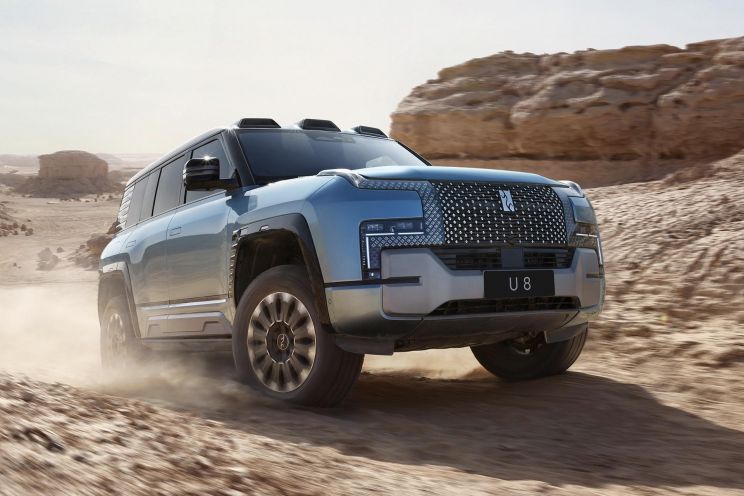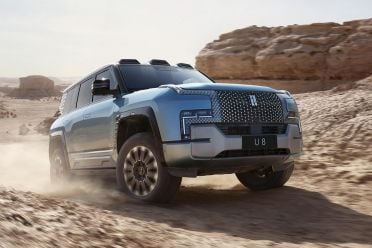 BYD's Yangwang is a luxury marque launched in early 2023. The brand debuted two models upon its launch, the quad-motor electric U9 supercar, and the U8 off-roader.
It's unlikely the Yangwang sedan will arrive here, however.
Local BYD distributor EVDirect managing director Luke Todd said in December last year there are no plans to bring the Yangwang brand to Australia in the immediate future.