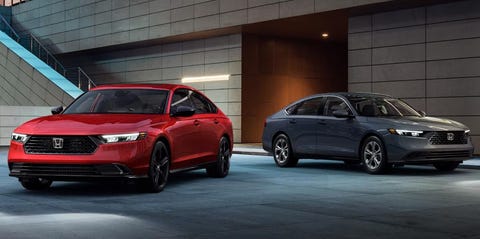 The new Honda Accord has always been a big deal, and now that the 2023 model is starting to hit dealerships, we thought we'd take a closer look at its reconfigured lineup. The names of the base trim levels have long been familiar—LX, EX, Sport, and Touring—but now there are certain trims that come only as hybrids. What follows is a breakdown of the six trims of the 2023 Accord to show what it looks like, how much it costs, and what kind of equipment you get.
Accord 2023 price
Advertisement – Continue Reading Below
The base Accord comes with a turbocharged 1.5-liter inline-four carried over from the previous generation. It produces 192 horsepower and uses a continuously variable automatic transmission. The LX comes standard with 17-inch wheels, cloth seats, a 7.0-inch touchscreen and plenty of driver assistance features.
A step up gets you the EX, which has the same turbo-four engine as the LX but adds some frills like a sunroof, heated front seats, dual-zone climate control and blind spot monitoring. It doesn't look much different, though, as it has the same 17-inch wheels as the LX.
The Sport trim is where Honda starts shaking things up for 2023. It comes only with a reworked 204-hp hybrid powertrain for better performance than the previous Accord Hybrid. The Sport also looks quite different thanks to 19-inch wheels, a decklid spoiler, and some additional color options. Inside, you get a larger 12.3-inch touchscreen with wireless Apple CarPlay.
The EX-L is basically an Accord EX with leather seats, but it also comes only as a hybrid. It also gets a few extra features including parking sensors and a memory function for the power driver's seat.
Like the EX-L, the L in Sport-L stands for leather. It is visually distinguished by black 19-inch wheels, and it has the same spoiler and body kit as the Sport. This model is also hybrid only and adds a power passenger seat.
Touring is Honda-speak for "fully loaded," so this hybrid-only model offers every feature available in the 2023 Accord. Most notably, these include Google-based apps for the infotainment system, a head-up display, an upgraded audio system, front seats that heated and cooled and heated rear seats and wireless phone charger.
Advertisement – Continue Reading Below