The small one Kia Picanto gets a rather interesting styling update, inspired by the upcoming EV9.
The updated microcar has been confirmed for a local launch at second half of 2023.
Photo published on a Korean website Autospy reveals the Picanto wears camouflage but clearly features new vertically oriented headlights. The refresh suggests a new generation of Kia's smallest model is still a long way off.
The spied example also appears to feature revised taillights, while funky new wheels give the Picanto more flair.
At the other end of the size scale, the Kia Carnival and Sorento are also set to adopt similar front end styling. The Telluride, which is not sold here, is ahead of this model in featuring vertical lights, with the upcoming EV9 electric flagship also adopting this.
The local-spec Picanto has yet to receive the additional active safety features such as blind spot assist, lane keeping assist and rear cross traffic assist that were added to the Korean market model, called Morning.
It remains to be seen if this will come here with this update. The Morning can also be enjoyed with luxury features such as heated and ventilated front seats and a heated steering wheel, never seen at this end of the market in Australia.
It also cannot be confirmed whether the Picanto will receive any powertrain updates.
It is now offered in S and GT-Line guises with a 1.25-litre naturally aspirated four-cylinder engine that produces 62kW of power and 122Nm of torque, while the GT uses a turbocharged 1.0-litre three-cylinder that produces 74kW and 172Nm.
The current Picanto was launched in Australia in 2017, and is Kia's first entry into the microcar segment – ​​at least domestically.
In 2021, it received a mid-life update. The crossover-inspired X-Line was discontinued, a new 8.0-inch touchscreen with wireless smartphone mirroring was added, and the GT-Line and GT received a series of design tweaks.
A new-generation 1.0-liter turbo three-pot GT is also installed, although it doesn't make any more power or torque.
For 2022, the Picanto then received Kia's new logo.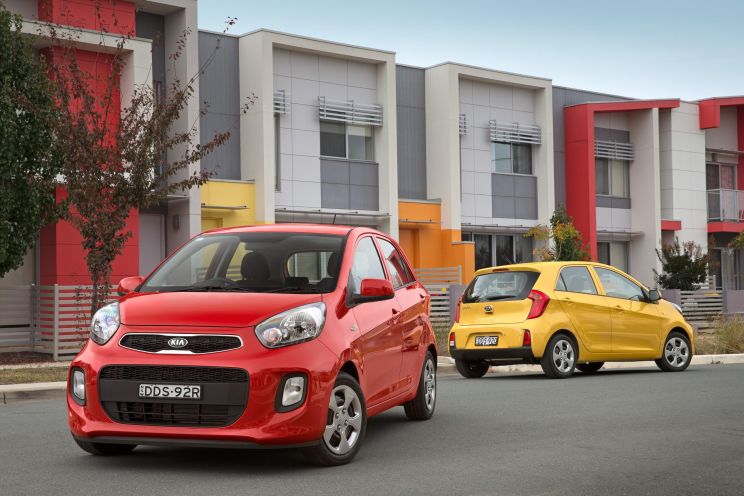 The first generation Picanto entered production in 2003, and was replaced in 2011. We received the second generation model at the end of its life cycle, and it was sold from 2016 to 2017.
So, the third-generation model might stick around for a few more years, now that it's in line for a second facelift.
It has essentially no direct competition in Australia, with Mitsubishi discontinuing its Mirage and Hyundai not offering a related i10.
Its closest competition comes in the form of the similarly small but more expensive Fiat 500, and the larger but similarly priced MG 3. The Picanto opens at $18,890 drive-away, just $100 below the base MG 3.
Kia sold 5196 Picantos in Australia last year, giving it the largest 81 per cent share of the microcar segment.
But MG sold more than twice as many MG 3s (16,168 sales), giving it a still-impressive 38.6 percent share of the passenger car segment – ​​more than the second, third and fourth best-selling passenger car combined.
MORE: Everything Kia Picanto