Maserati has revealed its new generation cabin GranTurismoin the electric Folgore and the Modena and petrol-powered Trofeo guises.
The Italian brand revealed the exterior of the GranTurismo last year, while also detailing its technical specifications, but chose not to release interior photos at the time.
The GranTurismo, regardless of variant, has a 12.3-inch touchscreen infotainment system, a 12.3-inch digital instrument cluster with four different layouts, and a lower 8.8-inch display for climate control.
There's also a projected head-up display, along with a digital rear-view camera borrowed from the MC20 supercar.
The infotainment system runs on the Android Automotive operating system and includes wireless Android Auto and Apple CarPlay, as well as giving owners the option to create up to five user profiles. There is also a standard signal control.
With Maserati Connect, GranTurismo owners also get Amazon Alexa Home-to-Vehicle control, connectivity on the road, Maserati Guard stolen vehicle detection and over-the-air software updates.
An 860W Sonus Faber 14-speaker sound system is standard, with a 19-speaker sound system optional.
Like the Grecale, the GranTurismo gets a digital version of Maserati's trademark dash-mounted clock that's not only multi-functional, but also responds to "Hey Maserati" voice commands to do things like set the cabin temperature. There are three skins available to choose from.
There is no gear lever in the GranTurismo, freeing up space on the center console.
The steering wheel is available in Nero (black) and Denim, the latter exclusive to Folgore. The Trofeo gets perforated leather wraps for the wheels, as well as bright blue start/stop buttons.
The famous aluminum paddle shifter is located behind the wheel, although on the electric Folgore it is instead used to adjust the level of regenerative braking.
Modena offers a choice of black, tan or "greige" leather upholstery, with dark ash burl wood accents with an open-pore finish.
The Trofeo's leather upholstery has a herringbone pattern, and is available in black, red or ice. A black interior is offered with a choice of yellow, red or gray chevron stitching.
Finally, the Folgore features extensive use of sustainable materials, including Econyl fabric, a nylon produced from recycled fishing nets, on the seats, roof and pillars.
The folgore pictured has a bright Ice/Denim colorway with Ice stitching; A black color stripe with copper colored stitching is also available.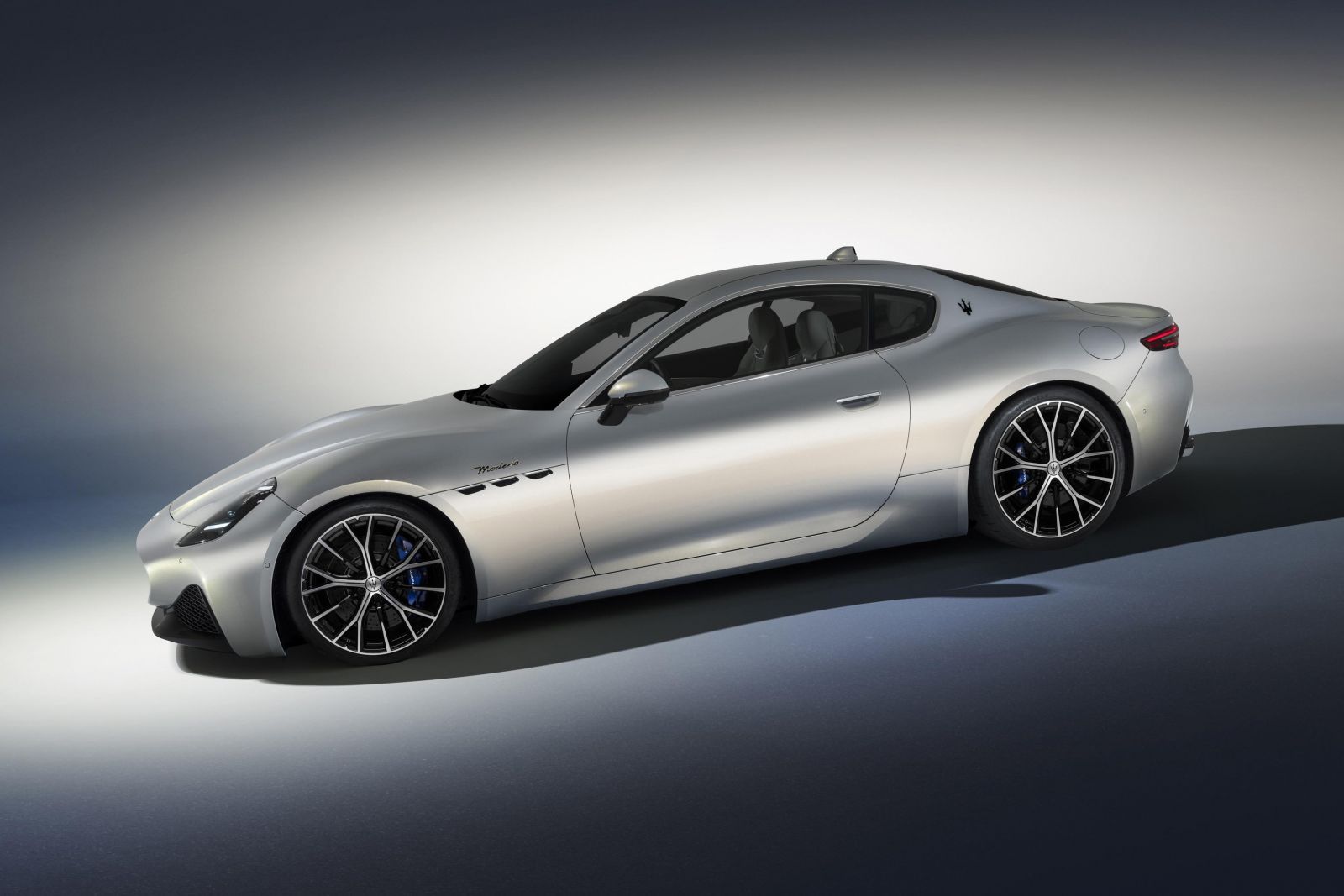 As detailed in October, the GranTurismo features a new range of powertrains.
Unlike the old GranTurismo, which featured V8 power, the new model is available with either a twin-turbo V6 or an electric powertrain.
The Modena base uses the MC20 supercar version 3.0 liter twin-turbo V6even with a wet rather than dry sump, yielding 365kW power and 600Nm of torque.
MORE: Maserati GranTurismo Folgore: A deep dive into ballistic EVs
MORE: 2023 Maserati GranTurismo revealed: Italian coupe in detail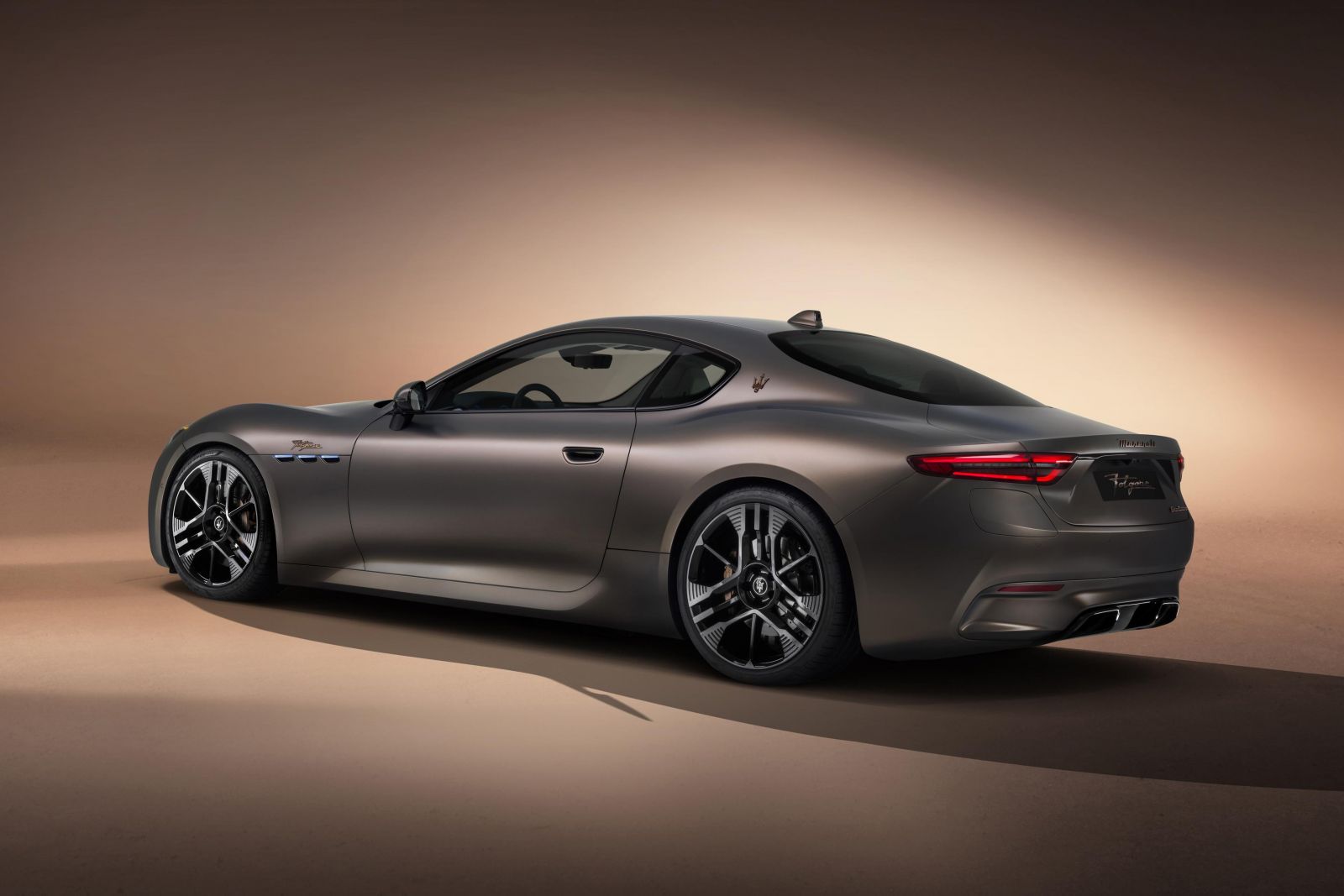 Equipped with cylinder deactivation, the GranTurismo's V6 is mated to all-wheel drive and an eight-speed automatic transmission sourced from ZF.
Maserati's claimed zero to 100km/h time is 3.9 seconds and top speed is listed as 302km/h.
The Trofeo has a raised, pumped-out version of the engine 410kW and 650Nm and reduce the 0-100km/h time to 3.5 seconds. Top speed is 320km/h.
Folgore has three 300kW radial motors for maximum system output 560kW (battery discharge capacity) or 610kW on excessive increase. The motor uses silicon carbide inverters derived from Formula E.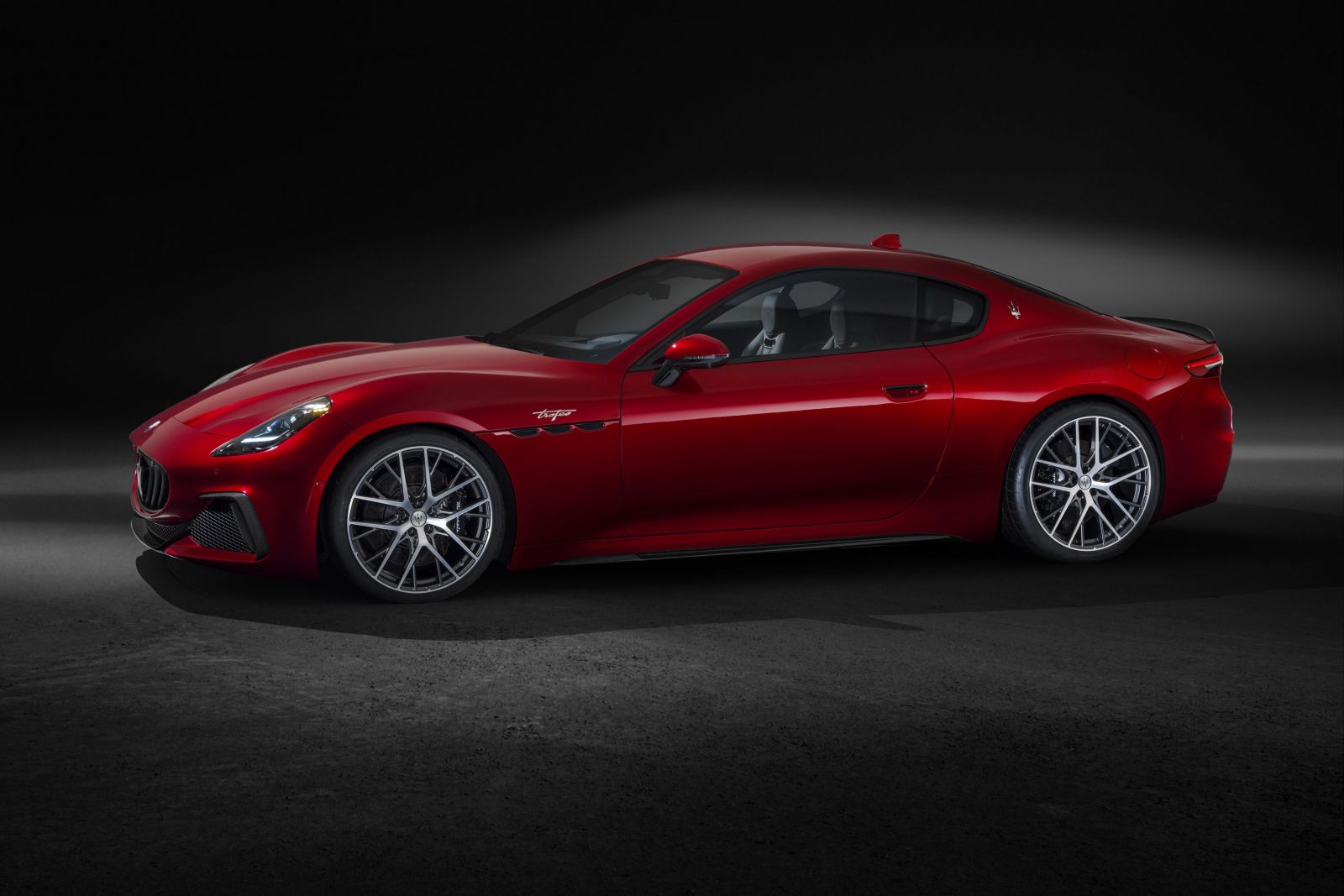 The peak torque is surprising 1350Nmand Folgore's AWD system features torque vectoring.
Its T-bone shaped battery pack has a capacity of 92.5kWh (83kWh usable), and with the available 800V system can handle a charging speed of 270kW, said to add 100km of range in five minutes.
Maserati claims the 0-100km/h time to be 2.7 seconds, the 0-200km/h speed is rated as 8.8 seconds (2.6 seconds faster than the Trofeo), and the top speed is the same as the Trofeo at 320km/h.
While the Folgore certainly has no exhaust or intake, the synthesizer-driven sound tuning function is pumped in and out through the speakers.
The GranTurismo Modena, Trofeo and Folgore all use double-wishbone front suspension with air springs with electronically adjustable dampers.
All three have multi-link rear suspension, with air springs and electronically adjustable dampers. The Modena has a mechanical self-locking rear differential, while the Trofeo and Folgore use an electronic self-locking unit.
Each uses a 380 x 34mm front ventilated disc with Brembo six-piston fixed caliper, and a 350 x 28mm rear ventilated disc with Brembo 4-piston fixed caliper.
The staggered wheel configuration consists of 21-inch rims with 295/30 tires at the rear, and 20-inch wheels with 265/30 or 265/35 rubber at the front.
The GranTurismo Folgore sits lower than any other electric car on the market, Maserati claims. Said Folgore can also provide regenerative braking levels of up to 0.65g.
At 2260kg, the Folgore EV weighs 465kg more than the Modena and Trofeo (1795kg).
There are various driving modes to change the behavior of the engine and chassis, called Comfort, GT, Sport and Corsa, with an ESC-off option for the track. Folgore modes are GT, Sport, Corsa and Max Range which dial things back to get more miles.
Maserati announced it will go all-electric by 2030 and will have at least one pure electric variant for every model in its lineup by 2025. It has already revealed an electric Folgore version of its mid-size Grecale crossover.
We expect the GranTurismo to hit Australia in the second half of 2023, with petrol and EV models both locked in.
MORE: It's all Maserati GranTurismo