BYD's Seal has arrived, with a right-hand drive version of the rival Tesla Model 3 being spied testing in Australia ahead of its launch this year.
The BYD Seal 2023 has been touched by a member Australian BYD EV owner Facebook group in New South Wales.
The electric sedan appears finished in blue-grey, though it's mostly wrapped in camouflage. A closer look reveals it rides on Continental SportContact 235/45R19 tires.
Luke Todd, CEO and managing director of distributor BYD EVDirect, confirmed to Car Expert in December that the BYD Seal will launch in Australia in the second half of 2023.
The exact date when bookings for Seal will open will be announced in February, according to Mr Todd.
The BYD flagship has previously been suggested for a late 2022 or early 2023 launch.
Few Australian details about the BYD Seal have been confirmed so far, but it will likely have a different name domestically, according to Mr Todd, as the Seal is what it is called in the Chinese market.
Atto 3, for example, is known as Yuan Plus in China.
The Atto 4 name has previously been speculated, but no name for the Australian market has been announced yet.
The BYD Seal will be placed on both the Atto 3 SUV on sale and the upcoming Dolphin hatchback (due in the first half of 2023) in the local lineup.
It will cost more than the Atto 3, according to Mr Todd, which is currently capped at $51,011 before on-road costs for the Extended Range model.
The Seal is expected to be priced similarly to the Tesla Model 3, which currently starts at $63,900 on-the-road for the rear-wheel-drive model and extends to $89,900 on-the-road for the dual-motor Performance.
The Chinese market Seal range opens with a single motor rear-wheel drive powertrain, producing 150kW of power and 310Nm of torque and has a 0-100km/h time of 7.5 seconds.
This uses a 61.4kWh blade battery and has a claimed range of 550km, even on the light CLTC cycle.
The long-range single-motor version uses an 82.5kWh battery and a more powerful rear-mounted 230kW/360Nm electric motor, a bumpy range of up to 700km and cuts the 0-100km/h time to 5.9 seconds.
Finally, the dual-motor all-wheel drive version uses the long-range model's battery and pairs a 230kW/360Nm rear permanent magnet synchronous motor with a 160kW/310Nm asynchronous front motor, for a total output of 390kW and 670Nm.
It has a claimed range of 650km and a 0-100km/h time of 3.8 seconds.
The dual-motor version also has frequency-variable damping shock absorbers.
The model with a 61.4kWh battery can be charged up to 110kW on a DC fast charger, while the model with an 82.5kWh battery can be charged up to 150kW.
All models support 7kW AC charging and have a heat pump.
Standard on all Chinese-market Seals are adaptive cruise control with stop/go, autonomous emergency braking, adaptive cruise control, Traffic Jam Assist, blind spot monitoring, rear cross-traffic assist, safe exit warning and LED headlights with automatic high beam.
All models also feature a panoramic glass roof and keyless entry and start, while inside there's a 15.6-inch rotating touchscreen infotainment system, 10.25-inch digital instrument cluster, dual wireless charging pads, eight-way power driver's seat and six-way power passenger. seat direction.
Available features include a head-up display, power boot lid, heated and ventilated front seats and a 12-speaker Dynaudio sound system.
Seal measures 4800mm long, 1875mm wide and 1460mm high on a 2920mm wheelbase. That's 106mm longer, 58mm narrower and 17mm taller than the Tesla Model 3 on a 45mm longer wheelbase.
It features double-wishbone front suspension and five-link independent rear suspension.
Following the launch of the BYD Seal, Mr Todd recently announced it will launch an electric ute in 2024, which will serve as a competitor to the LDV eT60, plus the JAC T9 EV and (potentially) Geely's Radar RD6.
BYD's 'new energy vehicle' brand is now expanding rapidly, launching its EVs in Europe, Japan and Australia – where its Atto 3 small SUV is selling in strong numbers after several ramp-up launches.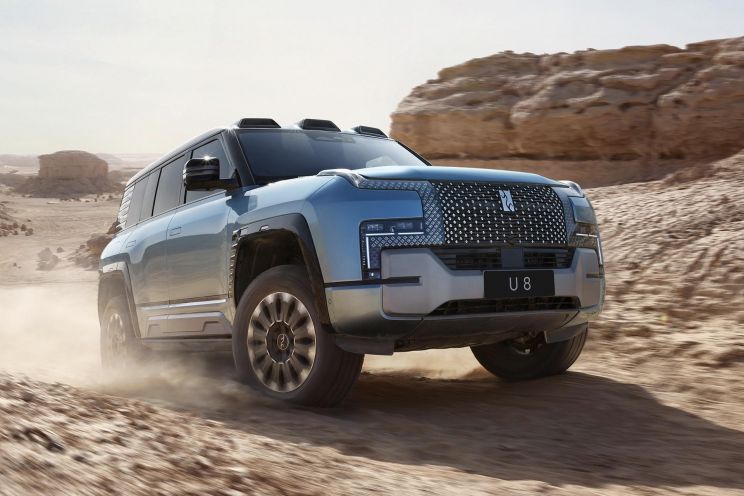 BYD Auto wants to create a "powerful brand matrix" consisting of BYD-branded cars, premium spinoff Denza and a luxury SUV-focused brand called Yangwang.
BYD recently revealed an electric SUV to rival the Mercedes-Benz EQG, the U8, which will be under the Yangwang brand, but Mr Todd said there were no plans to bring it to Australia anytime soon. The Yangwang brand will also debut the U9 electric supercar.
The Chinese carmaker also plans to launch "another new brand" that will specialize in "professional and personal identity, covering family cars and luxury cars".
"The brand will leverage co-creation with consumers and warmly welcomes all franchised dealers to join BYD for its promotion," he added, suggesting a car with a higher level of personalization.